HrubyMOVING was founded in 1995 in the garage of a family house. From the beginning, it seemed that we would be one of the usual small moving companies, of which there are dozens in Prague. Then the time came when we had enough courage and determination to take a risky step that paid off many times over.
We invested into a big advertisement in the Yellow Pages, that was for a huge amount of money at that time, but it was the turning point. Suddenly, we were not able to keep up with the amount of phone calls coming in, we were hiring employees and buying trucks. To take that bold step during the time of difficult decisions later paid off several times.
Since 1999, we started building a truck transport division. Again, from scratch. From the first truck which transported wood to Scotland and whiskey on the way back, to today's fleet of 70 trucks constantly travelling across Europe.
An important event in the company's history was the opening of its own premises in Kozomín, where we built a truck transport centre, the headquarters of the moving division, modern warehouses, truck servicing and our own fuel station.
We feel that we would like to support the company's hectic growth in the coming years by strengthening all internal processes. We would like to bring young minds into the company and reduce the ecological footprint that remains behind our activities in the long run.
Our company has two service centres in the Czech Republic. The first centre is located in Kozomín near Prague with a capacity of two large parking spaces for truck sets. The second centre, which has one parking space for a truck set, is located in the former ČSAD complex in Vyškov near Brno. Both centres have a high roof so that it is possible to comfortably lower the cab of the vehicle without the slightest problem. Within our service centres, we perform all repairs of our vehicle fleet, pre-sale service of DAF XF truck, but we also offer tyre service for the public with the possibility of minor service operations on vehicles.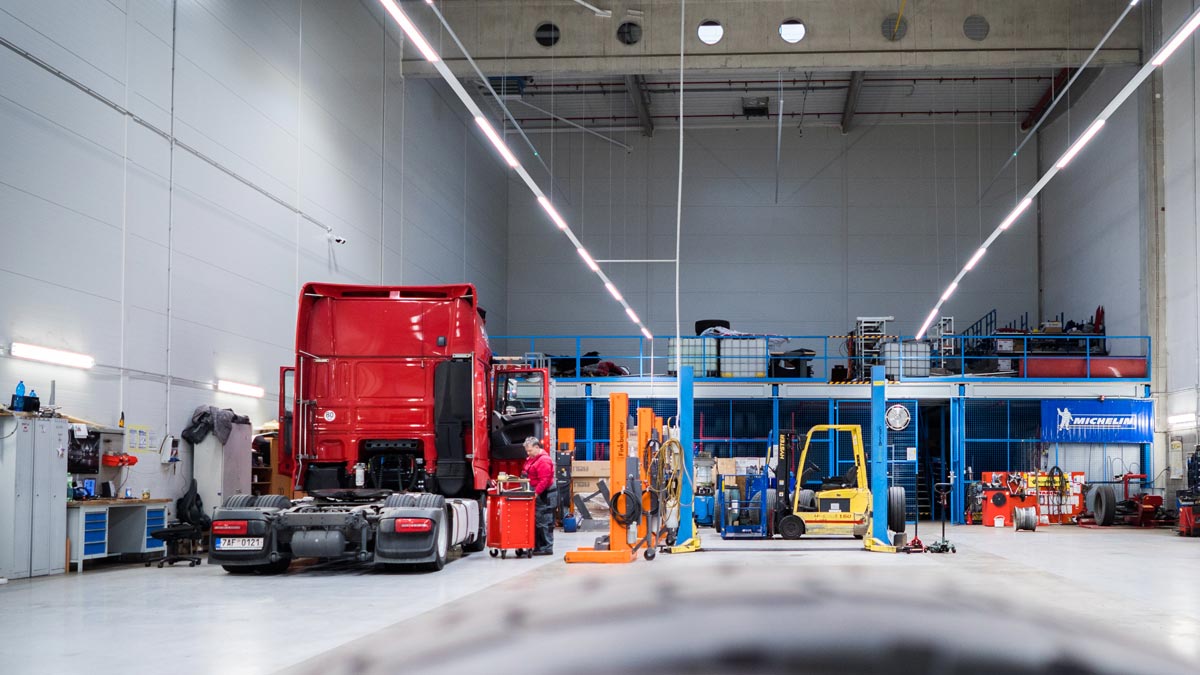 DAF PACCAR and KÖGEL partners
Our company has become a service partner of DAF PACCAR Czech Republic and Kögel, with whom we have long-term cooperation. For DAF PACCAR, we provide pre-sales service for XF-class vehicles, and thanks to self-diagnostics directly from the manufacturer, we are able to detect and subsequently correct most problems on vehicles. In cooperation with Kögel, we provide repairs of semi-trailer technology for us and the public.
We are here for you. Thanks to modern machines, we are able to change your vehicle's tyres in an instant. We also offer tyre storage in a modern warehouse, which is constantly monitored by cameras and secured by a system that only allows access to authorised personnel. Our service is also able to carry out minor repairs or replacements, whether we are talking about replacing fuel filters or adding and disinfecting air conditioning. 
We are here for you every day
HrubyMOVING TRANSPORT a.s.
Location: U Stavoservisu 527/1, 108 00 Praha 10
Office: Logistický areál HrubyMOVING, Kozomín 501, 277 45 Kozomín 
Company Reg. No.: 28517679   DIČ: CZ28517679